Driving Change from Within
Many funding organisations – particularly government agencies – are under enormous pressure to deliver attributable results. This emphasis on delivering positive outcomes is important and appropriate, look but the means of measuring these outcomes must also be suitable. The concern is that the results agenda will in fact drive inappropriate, remedy crude and over-simplified measurement methods with counter-productive effects. While many people working inside these organisations support the Big Push Forward's agenda of fair assessments for a fairer world, they acknowledge that the space for manoeuvre is limited. "The results beast must be fed", commented an AusAID staffer, whose drawing we reproduce here.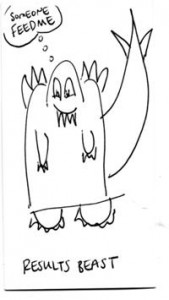 Political constraints and the space for manoeuvre
Last month, the UK Parliament's Public Accounts Committee released a critical report on the Department for International Development's financial management. Reading the report and – even more – reading the transcript of the oral evidence session where DFID were grilled by the committee, it is hard not to feel sorry for the Department's senior management. They are being asked to deliver far-reaching and challenging financial management and impact measurement reforms, for a budget set to increase greatly, while their administrative budget is being slashed. Not only that, they are also increasingly to work in the most difficult of contexts – fragile states – while the use of multilaterals, a 'safety-valve' is frowned upon as passing the administrative buck.
It's worthwhile focusing on two concerns that the PAC highlighted, which refer directly to measurement and its uses. First, the PAC stressed they were looking for DFID to show, in autumn, that programmes are tested on quantitative indicators which measure the value for money of their outcomes. These are to be used for allocative decisions, both within and between countries. Second, they want a number to capture the probably financial losses of a programme, not just at instrument level (where the degree of fiduciary risk is determined by the accountability controls in place and, e.g. the degree of delegation of authority to country systems) but in an abstract sense at the country level.
To understand these pressures, the introductory sentence of the PAC report is telling: it highlights that DFID is one of only two departments shielded from cuts. This has generated increased pressure on it. In an atmosphere of cuts, the allocation of taxpayer funds to development aid is highly political. Opinion surveys in the UK suggest that the public are increasingly sceptical of aid spending..  The same thing is happening in Sweden  where Minister Gunilla Carlsson's robust defence of the 'results' agenda  is explained as a response to the fact that the Swedish public is becoming disenchanted with aid.  Former Sida staff are protesting about what is happening.  People like Jan Bjerninger are desperately worried however, that this drive for attributable results will undermine Sida's capacity to actually delivering real results on the ground.
In AusAid, staff members are interested in keeping the space open for a variety of different methods, as the BPF's co-convenors learnt when they contributed to a workshop with staff working on supporting processes of political change. We have also been contacted by staff in United Nations agencies, the World Bank and the big philanthropic foundations who are keen to share ideas and experiences of how to work with the results agenda towards creating appropriate measurement tools. If the focus has initially been on the challenges facing  bilateral government agencies, we nevertheless are keen to invite engagement from any donor for whom these challenges resonate .
While the political winds have reduced donor agencies' leeway, there are opportunities to ensure that the results agenda produces practical and proper measurement systems. The challenge is to manage both the hunger for easy-to-understand and comparable results, which can be used for assurance purposes to demonstrate to the public and auditors the appropriate use of funds, and the need for appropriate management and measurement tools. Ultimately, this is about balancing the demands of stakeholders – the public, politicians and auditors – with the exigencies of working in complex environments and the demands on donor country offices. Fortunately, an increasingly rich ecology of tools is springing up: the issue is to reform in such a way that this richness is exploited in full.
Driving reform
The purpose of this cluster is to provide a forum for donor representatives to discuss the development and adoption of appropriate measurement tools to respond to the results agenda. It therefore has two roles:
Support donors to work within the results agenda: foster a discussion on theories of change and narratives for reform within donor agencies, to support donor representatives work with the results agenda to develop appropriate evaluation and accountability processes.
Link to other clusters: as a bridge, it links to ideas coming from the wider Big Push Forward community of practice, and provides a space for representatives from donor organisations to discuss these ideas.
These overarching purposes are elaborated in more detail in the cluster page, along with an outline of how these purposes will be taken forward. We warmly invite and encourage donor staff members, experts on donor dynamics, or those interested in involving themselves in the community of practice, to sign up.
Links: Join this cluster | Members page