The Politics of Evidence and Results in International Development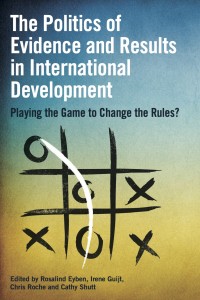 Due to be published by Practical Action in July 2015, sick this book is the outcome of an international conference for people who wanted their work in development to support local, rx national and global efforts to transform power relations for greater social justice and the realization of rights – and this within a political context of ever-increasing emphasis on certain kinds of tangible results and evidence. Conference participants were invited to share experiences and strategize about their effort and most shared rich, store varied and frank cases, a small selection of which have been developed into chapters for the present book.
Content Details
Chapter 1 Introduction by Rosalind Eyben and Irene Guijt.
This chapter introduces the concerns that have guided the Big Push Forward and its culminating conference about the politics of evidence from which originated the case studies in the present book. The book's principal themes that emerge from the case studies are identified and the chapter concludes with a summary outline of its contributing chapters.
Chapter 2  Uncovering the Politics of Evidence and Results by Rosalind Eyben
 Starting with the tools and protocols – the artefacts – that are the concrete expression of the results and evidence discourses the chapter then looks at the origins and history of the discourses themselves as these have evolved in public sector management, It discuses how and why these are increasingly influential in the international development sector and considers the possibilities for push back.
Chapter 3 Mapping the Results Landscape: Insights from a Crowd-Sourcing Survey by Brendan Whitty
This chapter explores how development workers in different positions in the 'aid chain' respond to the tightening results-reporting requirements. A crowd sourcing survey found that while the results agenda was viewed more positively than not, its influence was seen as deeply ambiguous. Respondents' contrasts in perspective are identified with respect to key facets of development work that the results agenda has influenced. Four factors are proposed that may influence these perspectives: the position of the respondent, their role, the organisational context and the process of change management through which reporting requirements were introduced.
Chapter 4 The Politics and Practice of Value for Money by Cathy Shutt
This chapter is for practitioners wanting to engage with value for money (VFM) politically and in ways likely to encourage transformative social change. The author reflects on her own involvement in political debates and consultancy contracts to explore the evolution of VFM discourse and practice in the UK. She argues that though VFM can appear hegemonic and sometimes contradict principles of transformational development, there is room to manoeuvre. Tactics that have been employed to mitigate unhelpful effects offer power-aware practitioners opportunities to increase accountability to citizens and each other. VFM also creates possibilities to debate what is valued in development.
Chapter 5  The Politics of Juggling Multiple Accountability Disorder by Chris Roche
This chapter describes and analyses the context and internal politics of Oxfam Australia's attempts to initiate a power–sensitive approach to accountability. The central proposition is that despite some significant efforts by the organization to become more accountable to those it sought to benefit this agenda never became 'mission critical'. It concludes that a greater focus on describing, analysing and communicating the practice of transformational development  and associated forms of accountability may have been helpful.
Chapter 6  Theory of Change as Best Practice or Next Trick? Hivos' Journey with Strategic Reflection by Marjan van Es and Irene Guijt
This chapter discusses the journey of Hivos, a Netherlands-based international NGO committed to transformational development, that since 2000 has sought a socially critical way to use the quest for evidence of results for strategic accountability. It describes how internal and external pressures have influenced efforts to improve programme quality, reflective practice and learning, culminating in today's homegrown version of a Theory of Change approach. The authors conclude that multiple factors work against its intended use, including an aid system that induces certain behaviours and limited incentives for staff. They raise the question whether an enabling environment for reflective practice is more decisive than the choice of any particular approach.
Chapter 7  Aid Bureaucracy and Support for Disabled Peoples' Organizations: A fairy tale of self-determination and self-advocacy by Ola Abu Alghaib
Donors' approaches to monitoring and evaluation (M&E) can undermine Disabled Peoples' Organisations (DPOs). Most donors behave as if societies were predictable machines and that change occurs through cause-and-effect processes attributable to a given intervention. Relatedly, current monitoring and evaluation approaches are used to demonstrate accountability, rather than as an opportunity for learning. This can leave little space for organisations to learn about what is happening in ways that strengthen their work as I demonstrate in a case study of how our organization became a stranger in our own project. The chapter concludes with three principles for supporting in promoting real change in the lives of people with disabilities.
Chapter 8  The Results Agenda in Swedish Development Cooperation: Cycles of Failure or Reform Success? by Janet Vähämäki
Sida-Swedish International Development Agency has repeatedly, over decades, tried to introduce a stronger focus on 'results' and it has always resulted in a (re)-introduction of a management technology, based on a derivate of the Logical Framework. Since 2006, the 'results agenda' has been a top political priority, with large organizational and cultural changes within Sida. The chapter concludes that although there might be factors that support success of the current effort, these changes may however hamper achievement of development results on the ground and be just another 'tide of reform'.
Chapter 9   Valuing Children's Knowledge: The Politics of Listening by Vicky Johnson
Children's voices matter and can help us to understand the complex realities of their lives but for children and young people to be heard, people in positions of power need to be included in participatory processes with them to build their confidence in the value of children's evidence. Based on revisits to participatory evaluations in the UK and Nepal, I show how children and young people's evidence can lead to transformational change and that their evidence can be valued if local power dynamics, including those between adults and children, are recognized and addressed. Mechanisms for how this can be done are presented.
Chapter 10  Unwritten Reports: Lessons from an NGO Collective by Bernward Causemann and Eberhard Gohl
This chapter concerns the difficulties of a reporting process by an NGO collective that worked across three continents. It describes how German civil society dealt with the Results Agenda culminating in a project to develop participatory monitoring tools, how the project experimented with different forms of reporting, and why many partners did not provide written feedback. The reasons for these reporting difficulties (regarding utility, capacity, culture and power) are explored. Alternatives to written reporting developed during the process are examined and how such alternatives might be applied more widely is discussed.
Chapter 11  Playing the Rules of the Game and Other Strategies by Irene Guijt
This concluding chapter takes a forward-looking perspective. It identifies how those seeking to create or maintain space for transformational development can use the results and evidence agenda to better advantage, while minimising problematic consequences. Given that the politics around results and evidence are inevitable, what strategies can lead to a practice of generating and using results and evidence that supports transformational development?